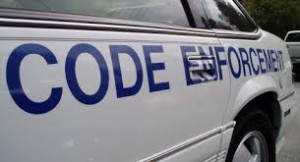 With lawn in and the plumbing and electrical inspections complete, I can now set up the certificate of occupancy (C. of O.) inspection.
Let me step back from chronicling the construction process and do an aside about building inspectors by sharing two stories.
First Story
When I was Operations Manager for a previous employer I was in charge of building a small office park with seven two-story office buildings. The first building was 75% complete and a second building was at the framing stage. I was in my office and a guy comes in and says "Hi, I'm [his name], I'm the new building inspector. Where is your elevator?" I was somewhat in shock because the stamped plans had no elevator and we were permitted with that set of plans.
He was very pleasant about it, but said the previous inspector should not have issued the permit. He told me we would need a variance or an elevator. He was also very helpful about how to proceed and request the variance hearing. I informed my boss and the architect. We decided there was nothing to lose by seeking a variance.
I should have though it odd that neither my boss nor the architect did not go with me to the review board hearing. In retrospect, it should have been a humiliating blood bath because we were in the wrong on an important accessibility issue. In the end, we got a variance for the first building, but had to meet code for the rest of the buildings. Very nice!
Second Story
I had a difficult code enforcement officer I was dealing with and I had scheduled two CO inspections with him for the same day. He had gotten there before me and had pretty much made his list for one of the houses. He found what he thought was an issue we needed to take care of before he would sign off.
I politely told him I was pretty sure he was misreading the code. I asked him if he had the code book with him. He did, so he tried to find the relevant section but could not. I knew he was in a hurry so I said I would look for it if he wanted to inspect the second house. By the time he was finished, a few minutes later, I had found the section of code he was looking for. I told him if we read the code exactly word for word, it did not require we do what he was asking. While he did not say I was right, he did say other builders would just argue and not present any facts to promote their case and he appreciated how I had handled the situation.
I told him I would take care of what he wanted anyway, because I wanted the C. of O. He said he would get an interpretation on the code. He never did, but he also never asked us to comply with his wrong interpretation again. Good ending!
Third Story
I know I said two! We use a temporary lock on the front door during construction and change it to the permanent lock on the day the customer takes possession. The opening for the dead bolt lock, just above the temporary lock, is taped over with masking tape so the weather does not get in. When I left one inspector to do the C. Of O. inspection on his own, he failed the house because the dead bolt was not on! I kid you not! Sad, but true.