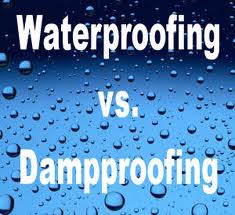 Basements add value to a home because they create storage space and the potential to add additional living space; but only if it is dry. If you are planning to build new home with a full basement or a crawl space make sure you understand the terms: damp proofing–waterproofing are not interchangeable. They have entirely different implications. If you are building a new home, you want to have a dry basement, so take the time to understand the builder's specifications and upgrade them if you feel it is necessary.
Mold, mildew, dust mites, and bacterial toxins thrive in dampness. Moisture can enter foundation walls in a number of ways:
Relatively low soil temperatures can cool poured concrete and block foundation walls causing them to develop condensation in the basement. This is kind of like the condensation that forms when you put a cold beverage in a glass on a hot summer day. Condensation can be minimized by insulating the foundation: outside, in the case of a block foundation, internally – inside the block.
Poured concrete and concrete block foundations are porous in nature. The concrete can absorb like a sponge and allow moisture to wick from outside to inside through a process known as capillary action. Capillary action can take place as a result of moisture in the soil against the foundation walls, or moisture in the air in contact with the foundation above the ground.
Ground water and surface water can enter the basement through cracks in the foundation.
Damp Proofing:
Damp proofing has one main purpose; stop the transference/wicking of ground moisture through the foundation. This is accomplished by creating a capillary break, preventing moisture from passing through the capillaries inherent in the concrete.
Damp proofing can be effective on poured concrete and concrete block foundations and it is allowed by the residential building code if certain soil conditions exist.
Damp proofing is not effective on foundation cracks or on wood foundations
Types of damp proofing include:
Cementitious parge coatings
Asphalt coatings
Crystallization Products
Damp proofing is generally less expensive than waterproofing.
Waterproofing:
Because waterproofing is effective on foundation cracks it provides stronger protection against moisture, ground water and surface water.
Waterproofing is required for wood foundations and optional on concrete foundations where the building code allows damp proofing.
Waterproofing materials include:
Modified asphalt coatings
Rubberized asphalt coatings
Clay-based products
Crystallization products
Urethane coatings
Rubber-based coatings
Some of these materials are/or can be combined with other products such as drainage planes to create a more effective system.
Cost and effectiveness of waterproofing products and systems varies widely, but do a better job of keeping moisture and water out of the basement than damp proofing. As you would assume, waterproofing is more expensive than damp proofing.