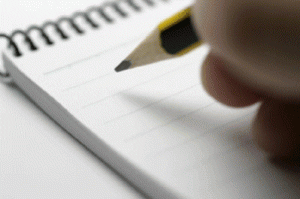 In Part 1 and Part 2 of this series we looked at:
Setting your new home purchase budget

Deciding the type of home your want

Choosing the area where you want your new home built

Determining your needs and wants

Trying to determine the type of homebuilder that bests suits you
To find the right homebuilder-make a list.
Now the actual work of finding your builder can begin. Be forewarned, the actual decision making is 100% up to you. You can read information on this and other sites, you can ask your friends and you can ask your realtor; in the end it is all up to you. You decide, and you take the credit.
Don't take it wrong, you should talk to your friends and relatives and ask about their experiences. But, remember they are not you, and your experience with the same builder may be quite different.
You should listen to the advice of your realtor especially if he/she specializes in new home construction. A realtor with this experience will have the ability to help narrow the field of prospective builders for you. Still, listening to your realtor does not require that you take their advice; you still must trust your gut. Using the resources below, make a list of your builders of interest. Start with a large list and aim for a final list of no more than five homebuilders to really investigate. Two or three of the builders should be recommended by your realtor and the other two or three builders on the list should be based on your own independent research.
Choose your builder before you make final decisions on the house design
The number one factor in building a new home is not the house plan, style or design, but who you buy it from. A good builder understands that they have a reputation to maintain. This means they will make every effort to live up to their promises and will be available if any issues arise.
Suppose you love the floor plan that Builder A has, but think that Builder B or Builder C are a better fit for you. Neither Builder B or Builder C can copy builder A's plan because they are copyrighted, but Builder B or Builder C may have a similar plan or they may be willing to modify one of their existing plans to meet your needs. The bottom line is; don't compromise on the builder for the sake of a house design.
Starting your independent homebuilder research
Begin your quest to find the best builder for you by checking out builders in the area where you plan to build. We suggest looking for a builder who is a member of a local chapter of a national trade association like the National Association of Home Builders (NAHB) because its members agree to abide by certain rules and standards. (This does not mean that great homebuilding experience can not be had using a non-member.) A link to finding local NAHB resources is listed below.
Check out homebuilder websites, look for home styles and photos of work they have done. Read their "about" sections to get a feel for their company history and philosophy. Don't get too caught up in a builder's self promotion, but do note some of their details and see if they 'walk the walk" when you meet with them or inspect their models and homes under construction.
Summary of Part 3
Start a list of homebuilders in the area where you plan to build
Check the builder's websites for information
Narrow your list to five builders or less.
Resources
In Part 4: You'll need answers; we give you the questions