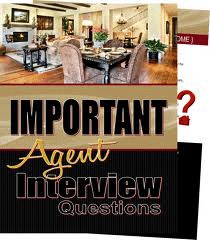 In previous articles in this series we have pointed out reasons for using the services of a real estate agent. We have also reviewed different types of agents and agencies. With that information, it's time to find an agent. To find the right real estate agent is a process, below are some tips to help you get started:
1. Determine the type of agent and agency that would be best for you;
Dual agency
Buyer agency
New construction specialist
One agent to help you sell and buy
One agent to sell your existing home and another agent to help you build
2. Next; find some agents to check out. Your goal here is to find a number of candidates for additional research and or interview. Try one or more of the following options:
Ask for referrals from people you know
Check with friends, family, neighbors and coworkers; ask who they have used and ask them to describe their experiences with their real estate agent. Make note of positive reports. Keep in mind that each person's circumstances are different; an agent that is perfect for Aunt Mary may not be a good fit for you.
Search Online for Agent Listings
Many "how to find a real estate agent" websites will refer agents to you (But you'll still need to do your own research)
Check the websites of real estate companies in your area (you can usually look up profiles of individual agents)
Scan this website for articles written by real estate agents near you (Their articles will give you insight into their expertise and experience)
Recommendations from other agents
If, for example, you already have a relationship with a resale agent and are looking for a new construction specialist, don't be afraid to ask your agent for referrals. Agents are usually happy to refer buyers to their associates, especially if the service you need is not their (the referrer's) specialty.
Monitor sold signs in new home neighborhoods
Make note company and the names listed on the for sale/sold sign, check the company website and Sunday paper for additional information about agents.
Check out print media
Sunday papers and free real estate guides will provide you with names, phone numbers, websites and sometimes additional agent details.
3. Review your list and narrow it down to two or three candidates. This is the short list of agents you will interview. The purpose of the interview is to make sure the agent you select is not only qualified, but that they are a good fit for you. The homebuilding experience can be a series of emotional ups and downs. The test of a good agent is how they perform when you are on an emotional down.
Before you plan your interview, solidify what you want from your real estate agent:
To sell your current home and help buying new construction?
Help to find the right homebuilder?
To work with you and a homebuilder's sales rep or listing agent?
Help to choose a neighborhood?
Help to choose a lot?
Help with contracts?
Help with options and selections?
Help finding lenders, home inspectors and other professionals?
Be as specific as you can, both in your own mind and in verbalizing the information to agents you interview.
Take the time to conduct the interviews in person, not over the phone. Here are some questions you might want to ask:
How long have you been an agent?
Are you licensed and, if yes, is it up to date?
Are you part time or full time?
Do you consider yourself a new construction specialist? Why?
Who would you say are the top (three) homebuilders in the ______ price range (your price range)? Why?
How many of each of those builders homes have you sold?
What are the most desirable neighborhoods in my price range? Why
What are (three) things that separate you from other agents?
4. Conduct a communication test. Assuming you have expressed to the prospective agent just what you are hoping to achieve and what you want them to help you with; ask the agent to repeat your objectives back to you. This will help you know if this agent will be a good fit for you.
Never pick an agent based on the car they drive or the clothes they wear, or solely on their reputation. Select an agent based on how well they listen first and their other qualifications next. Communication is the overwhelming key to a successful homebuilding experience. Start with the agent that's right for you!