Note:
When it comes to foundation-basement selections, not all homebuilders will allow changes to their foundation specifications. In addition, not all home sites are conducive to each basement option discussed below.
Foundation Type
All homebuilders will have a standard foundation type and may not allow deviations from it. If your research leads you in the direction of a different type of foundation, ask the builder if they would consider the alternate foundation as an option. If they your option, ask for a price. If they won't consider your alternative foundation type, find out the reason. Usually there is experience that goes with a "no". Don't pass over a homebuilder because they won't change their foundation for you, but rather, think about your needs and wants, let some time pass and come back to it if this is a "must have" for you. A lot of things that once seemed unlikely can be negotiated if there are only a handful of items preventing a deal from coming together.
Full basement vs. crawl space basement
If the option is available, always go for more area of full basement and less area of crawl space basement. This will give you more storage space and generally higher resale value.
Foundation-Basement Options
Extra foundation height
If site conditions permit, add as much extra height to the basement as your budget and builder will allow. Extra basement height will make it easier to conceal beams, ductwork, plumbing and other utilities above the ceiling within basement space you finish. Not planning to finish any basement space? Extra basement height should more than pay for itself when it comes to resale. Talk to your builder and evaluate your options and their costs.
Walk-out or partial walk-out basement
These options will only be available if the site conditions are conducive; the lot needs the right amount of slope in the right direction. Ask yourself if the walk-out is a "need" or a "want". If the the site conditions don't work for a walk-out, Ask if there is another lot available that will suitable for a walk-out basement foundation. A reasonable compromise might be installing egress windows or doors to the foundation.
Egress door system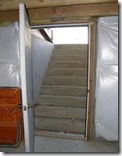 An egress door has multiple purposes; but mainly it allows for the movement of people and materials into and out of the basement. This means it can be used in the event of a fire for egress (getting out). The parts of an egress door system will vary based on number of factors, but may include the following:
excavation and backfill
foundation (enclosing the stairs)
drainage system
stairs
insulated basement door
lighting
covering for stairwell foundation
Consider an egress door if you plan to finish basement space, (it's a lot easier to get sheetrock into a basement with a door!) or if plan to store your "outdoor stuff" in the basement.
Egress window system

An egress window system will allows light and ventilation into the basement. Both are required for finished basement space. The egress window system may require the following parts:
qualifying window (must meet specific size requirements)
a window well (can be manufactured or site built)
drainage system
steps or ladder
a cover is sometimes available
You will need a second means of egress from each finished room (except for a bathroom)in a basement. The first way out is the way you came in. The second way out is another door or a window. The window must be no more than 44" off the floor and it must open to at least 24" high and 20" wide. You will want to consider the layout of your future finished basement space as the plans and specifications are being developed. Many plans and site conditions can impact the location of egress window systems.
Additional or larger basement windows
You will want to find out:
how many windows are included in the basement
do you have a choice of location?
what size are the windows
are larger and/or additional windows an option?
Standard basement windows can be as small as 32" wide and 16" high. Even if the window options available to you won't qualify as egress windows, more light and ventilation is almost always desirable for basements.
Related Basement Options
Plumbing for future bath
Plumbing for a future bath in a basement usually implies that the plumbing pipes that go in/under the basement slab are installed before the concrete is placed. Basement bath rough-ins are usually two-piece (for a sink and toilet) or three-piece (for a sink, toilet and either a tub or a shower). If you do not have the drains installed, and in the future decide to install them, the job will be more difficult and costly because the concrete will need to be cut out before the drains can be installed.
Under some site conditions it will be necessary to install a sewage ejector pump to move waste from the basement rough-in drains up to the main house drains. This can add several thousand dollars to the cost of the rough-in. The need for an ejector pump is not always known prior to starting construction.
You will want to think about how you will use the basement and locate the bathroom in a manor that will work for you. Your builder will be able to provide suggestions based on experience.
Finished storage or living space
If you are planning any finished storage space or living space during or after construction, plan this space out as best as you can before construction starts. The locations of windows and utilities can be adjusted more easily before construction begins.
Discuss These Things With Your Homebuilder
Utility locations
Ask your builder to confirm the planned location of the furnace and water heating equipment. Often from an efficiency standpoint, the best place for this equipment is in the center of the basement. The center of the basement can also be prime real estate for your finished space. Sometimes the utilities can be moved, but there may be additional costs involved to resize ductwork and/or other equipment in an effort to maintain the required efficiencies. You will want to discuss your options with the builder before starting construction.
Other utilities include the main water line, water meter and the electric panel. The builder may not have much flexibility with these utilities, but it is smart to get advance notice on their locations. The work-a rounds for these include creating closets or cabinets to cover them.
Sump well location
Many new homes require a sump pump. Homebuilder's usually have a pretty good idea where they want to locate the sump pump. This can sometimes be negotiated out of your finished space, but if the location can't be changed, you may need to add a closet.
Support posts locations
Ask the builder to point out locations of basement support posts. Most people will compromise and work around the posts. If the builder is willing and you have the money, sometimes a stronger beam system can allow a wider spacing between supports.
Layout of future storage and living spaces
It is often hard to anticipate how you will actually finish basement space when it is part of a plan for sometime down the road. You should, however, give this at least a little consideration for all the reasons outlined above.
Foundation drainage system
Ask your homebuilder to explain the drainage system for the basement. Most people won't care "as long as it works" and is covered by the new home warranty. The conversation will provide the opportunity to give you a little more peace of mind and/or to ask if any additional measures can or should be taken to assure the basement remains dry.
Basement insulation
Ask the builder what type of insulation they use for the basement. On block and poured concrete basements, many builders choose to use a full wall blanket insulation. This often has to be removed when finishing basement space and new insulation put in the framed walls. The blanket insulation is wasted. You likely won't have many options here, but at least you will know what to expect.