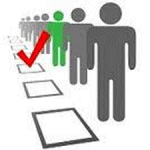 Before I get into this topic, let me first disclose that a very brief part of my over four decade career was spent as a salesman in the model home of a national homebuilder. My sales "career" was brief because I could not make the adjustment from a Monday through Friday 7 AM to 5 PM field supervisor, to an any time, any day sales person. Selling the product I had formerly built was just not the right fit for me.
I learned a great deal during my short time as a new home sales rep, but most importantly I developed a life-long respect for the sales position and for good real estate agents.
Now, to the point. The representative from the homebuilder's sales staff may or may not be a licensed real estate agent. Just keep in mind, they work for the builder. A good analogy might be the salesperson at a car dealership show room. You know almost instinctively that this person is looking out for; themselves first, the dealership second and you last. I'm not saying whether this is right or wrong, just that this is the way it is. When the car sales person takes your offer to the sales manager, you can bet they are not going to offer to reduce their commission in order for you to get the deal. The homebuilders sales staff's top priority is not is looking out for you.
This does not mean that homebuilder's sale staff people are not honest, most are. It does not mean they are not knowledgeable, many are. I always believed I knew more about the construction of the homes I was trying to sell than any real estate agent. Be cautious, and remember; a homebuilder's sales staff is not obligated by any law or code of ethics to keep your best interests in mind.
The homebuilder who employs their own sales staff could very well be the right builder with the right new home product for you. If this is the case, you will have to work with their sales representative. There is nothing wrong with this and in fact, the purchase of a home will usually go very smoothly with a homebuilder's sales staff because the process is systemized to be relatively hassle free.
After the contract is signed, the construction and delivery of a new home by nature is a little less predictable and issues can arise with the best of homebuilders. Depending on what the issue is, the builder or their sales rep may be capable of working things out with you just fine. For peace of mind, however, you may want an experienced real estate agent helping to sort things out. Since the homebuilder usually pays your real estate agent's commission, and the cost is already factored into the selling price, it can make a lot of sense to have your own agent assist you with a purchase from a homebuilder's sales representative.
Extremely important!
You need to have your real estate agent before you visit the builder's model home. In most cases your agent must accompany you to the model home the first time you visit, sign in, or register. Otherwise, you may loose your right to agent representation and the homebuilder does not have to recognize your agent or pay them commission. In other words, you loose the benefits of having an agent.
In Part 4 we check out new construction real estate agents.