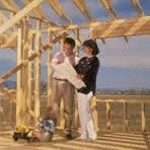 There are a variety of different types of real estate agents form which to choose. Since the main focus of WikiHomebuilding.com is new construction, we will make our case for an agent who is a new construction specialist.
Real estate agents
Agents must obtain a license after completing some coursework and testing.
Real estate broker
Brokers must obtain a different license after completing additional coursework and testing and ultimately have more responsibilities through the completion of the transaction. Brokers have more education and training than real estate agents.
Realtor
In the US, "Realtor" is the name given to a "Real Estate Agent" who holds an active membership with the National Association of Realtors.. Although both real estate agent and Realtors are licensed to sell real estate, they are not the same. In addition to more education and training, a REALTOR® is a member of the National Association of REALTORS®, and as such a REALTOR® must subscribe to the Code of Ethics which was adopted in 1913 and updated in 36 subsequence years. The REALTOR® Code of Ethics is a pretty impressive document! You will find a copy of the 2011 version here.
Seller's agent
A seller's agent an agent you "employ" to sell your existing home. You can find additional information in the Home to Sell? Section on this site.
The new construction specialist
A new construction specialist can be a real estate agent, a realtor, a listing agent or some combination. There are different designations within the real estate and homebuilding communities for agents who have had some coursework and passed a test relating specifically to selling new construction. These are good, but the true measure of new construction specialist is not what they learned in the classroom, but what their experience has taught them in the field. To that end, don't be overly impressed by the three or four letter designations on the business card. You want to find out what the agent can do for you.
The new construction specialist will have the following skills, traits or knowledge:
Listen
The agent will listen to your new home needs (and wants), goals and objectives, then proceed accordingly.
Homebuilder knowledge
The agent will know which homebuilders build where, what their price ranges are and what their reputation is.
Homebuilder perspective
The agent will understand a homebuilder's perspective. This is important because there may be times during the purchase and construction process when your emotions get in the way of logic. When you are at an impasse with the homebuilder, having a agent that can articulate where the homebuilder is coming from is an invaluable service. What you don't need is an agent who just sympathizes with you even if your thinking is wrong. Of course you wan the agent to advocate strongly for you when your points are correct. Experience with homebuilders makes the difference.
Understand new home contracts
New construction contracts are not the same as resale contracts. You want an agent who understands new home contracts and will help you to understand them. You want an agent who will recognize and inform you of contract aspects that work in your favor or that may work against you.
Understanding of building lots
After you have decided on a house type and/or selected a homebuilder, you will be ready to choose a building lot. A new construction specialist will be willing to walk building lots with you. They will have some input as to how well suited your house type is to a particular lot. They may have insight into things like drainage, easements, utility locations and restrictive covenants. Don't expect a new construction specialist to be an expert in regards to the lot, that's the homebuilder's job. Trust, but verify the information you get with the homebuilder.
Understanding of construction materials
A new construction agent will have knowledge of construction materials and specifications. All homebuilders will show you a list of their standard features. Unfortunately, no two homebuilders present the information the same way. It is very difficult to compare apples to apples. What you want to know is; "What is the benefit for me?" A new construction agent will be able to help you sort this out. Again, the agent doesn't need to be an expert, you want them to be able to get you credible information when you ask for it.
Understanding of blueprints
Your agent should have a good understanding of blueprints. Many homebuyers have difficulty visualizing hoe the two dimensional plans will translate into their new home. The agent must be able to help translate the architectural design into information the buyer can conceptualize.
Selections or Plans & Specs meetings
When you have signed or are about to sign a building contract you are at one of those emotional highs in the homebuilding process. You've made the BIG decision! Then you realize you have selection choices to make. You can't go online and get option pricing and descriptions like you can when researching a new car. What are the best choices for your needs? Are the option costs be reasonably priced? What consideration should you have for resale? This is another are where experience with homebuilders makes a huge difference. An agent with this experience can give you the backup you need for peace of mind. In the case of a semi-custom or custom home purchase where there are almost limitless selection decisions to be made, many experienced agents will help you pick light fixtures, faucets, carpet, etc.
Understanding of the homebuilding process
It is important that your agent is familiar with the process of constructing a new home, especially if you are not. In addition to knowing the construction sequence it is helpful for the agent to be familiar with common problems that can occur during construction as well as an awareness typical fixes the builder might employ that are acceptable within the industry. The agent is not there to be a home inspector or a codes official, but having clear thinking when the construction waters are murky is a terrific asset.
Change orders
The agent should become familiar with the homebuilder's process for making changes (if allowed) during construction. They need to use this information to guide you and keep you organized and on track. If you have articulated your needs and wants well, a good agent will help to make sure all your priorities have a chance to be addressed.
Walk through' and warranty issues
It is very likely that if, with the help of your agent, you picked a great homebuilder you won't have a need to have the agent join you for a construction walk through or the final walk through before possession. In fact if you have developed a level of trust and comfort with your homebuilder, I recommend you do these inspections on your own because you will be less distracted and will likely get much more information and personal attention. Some agents believe this is part of the service they provide so if you would rather fly solo, tell your agent your appreciate the gesture.
Obviously, if you are not quite comfortable with your homebuilder, or are nervous that you might overlook something you will need your agent at these meetings. If the agent doesn't volunteer, ask them to come.
Advise regarding other professionals
You want an agent that can recommend other professionals to you:
Homebuilders
Attorneys
Mortgage lenders
Home inspectors
Always ask why they have made a recommendation if they receive any compensation for their referral. Remember just because the agent recommends does not mean you select with out doing your own research!
Conclusion
When it comes to new construction, it doesn't matter so much what an agent's title is. The most important thing is experience with new construction. Take notes from the suggestions above and use them when you interview prospective agents.
Last but not least, here are some additional qualities and characteristics any agent should have:
Available by phone and e-mail
"On call" during reasonable hours
Trustworthy
Assertive (but not overly so)
Good negotiation skills
Good communication skills
Analytical thinking
In Part 5 we outline how to find the right real estate agent; step by step.