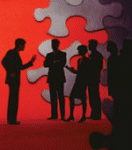 This is the first part of our five part series that sets out to answer the questions; Do you really need a real estate agent? And, in latter articles; How do you find the right agent?
Do You Really Need a Real Estate Agent for New Construction?
Generally speaking the answer is yes, but there may be a few circumstances where the best answer for you could be; maybe not.
If you are extremely knowledgeable in the processes of new home construction and land values, and you are well versed in contract language, and you are a good negotiator, you may be able to skip agent representation and cut your own deal with a homebuilder. You will have to believe you can get the homebuilder to cut out any agent commissions that are built into his selling price.
The rest of us would be better served by using the right agent. Here's why:
No cost
The homebuilder (seller) pays the commission to the real estate agent, the cost is usually factored into the selling price of the home, so you, the new homebuyer, pay nothing out of pocket.
Looking out for you
Building a new home can be a complex undertaking. Utilizing an agent to help you find other professionals; a home builder, a lender, a home inspector, etc. makes a lot of sense. Why wouldn't you want to have a professional helping to look out for your interests?
Resale knowledge
Unless you spend all your weekends visiting open houses and builder's model homes, the right real estate agent will be able to inform you about fads, trends and resale values. They can help you choose the right options and make wise selection choices. Even if you plan to stay in your new home forever; situations and circumstances change. A real estate agent can help you create the best value for the future.
Property value
A good real estate agent will not only know property values in the communities that you are interested in, with an objective point of view, they can assist you in selecting the best home site for your needs.
Choosing a homebuilder
A good new construction real estate agent will have inside knowledge about homebuilders. They will have information about builder quality, builder incentives and a builder's reputation with customers. This knowledge alone can be the difference between a nightmare homebuilding experience or a dream homebuilding experience.
In times of trouble
Even with the right homebuilder, you will usually have to work through a glitch or two with a new build. If a problem develops, a good agent will be able to recognize just how serious it is and can advise and assist you in dealing with the homebuilder. The right real estate agent will have "been there before" and can provide you with peace of mind.
Builder jargon
Just as you will hire an attorney to help you understand the terms of the contract, having an agent specializing in new construction will help you understand the builder speak and jargon as you wade through the various agreements and construction procedures.
From beginning to end
In short, the right agent can give you objective, professional advice and insight during all phases of the process from choosing a homebuilder to; contract, selections, construction, final walkthrough, closing, moving and in some cases, the warranty period.
Clearly, for most people, having the right real estate agent looking out for your interests should be a no brainer. The question then is; how do you find the right agent?
In Part 2 of this series we look at several different types of agent representation.