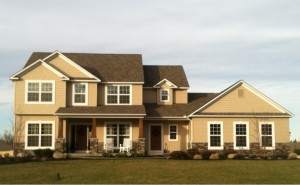 In the last entry I provided an introduction to our company. This entry will attempt to answer the questions why? where? what? by detailing why Heritage Homes wants to a new model home, where it will be built and what it will be.
Why?
The national housing slump took a long time to reach Syracuse and Central New York, but there is no denying the market is slower than anyone would like. Even our market has cyclical doldrums. When sales slow, homebuilders generally try to sell existing inventory before starting models or spec houses. With the exception of the annual Parade of Homes, there are not a lot of models or spec homes being built in CNY right now.
Having a model or spec available when housing is slow creates an opportunity for the builder. In every economy, there are still homebuyers looking for new construction. Mathematically, you will get more "looks" if there are fewer new homes to look at. This strategy has worked well for Dan in the past, and, with the recent sale of three model homes, he is ready to start another.
Where?
Heritage Homes has developed a number of communities in the area, but for the next model, Dan has decided to take advantage of an offer with great terms to purchase great building lots in the well-established Mallards Landing community in Manlius, NY; just East of Syracuse.
The developer and primary homebuilder in Mallards Landing describes it this way:
"Through 30 years of focus and commitment, Mallards Landing has earned the reputation of being the region's premier residential home site.
Located off Route 92, east of the Village of Manlius and just 20 minutes from downtown Syracuse, this exclusive community is nestled among rolling green hills with spectacular views, large private settings, wooded lots and sparkling ponds.
Our residents choose Mallards Landing because it projects a distinctive look and feel. They expect their homes to uphold and reflect those feelings."
Mallards Landing has a cottage homes section with prices starting in three hundred thousand range. Single-family homes range in price from six hundred thousand into the millions.
Heritage Home is one of a few homebuilders the developer has chosen to build along him in Mallards Landing. We will be building on lot 338 on Whistling Swan Lane, near the intersection of South Eagle Village Road. The lot is 1.32 acres and has some great views.
What?
After several meetings with the architectural review committee, Dan decides target a selling price of about $499,900 since that price range has been underserved. They also agree a new version of our Brandywine plan will fit in nicely. We have recently built the Brandywine a number of times in other communities, customizing the size and layout each time to suite the homebuyer. This 3202 square feet two-story colonial will have 4 bedrooms and 3½ baths. Other specifications are below.
Basic Features of the Brandywine Model

| | |
| --- | --- |
| House size | 3202 SF |
| Lot size | 1.32 Acres |
| Utilities | Water, sewer, gas, electric |
| Bedrooms | 4 |
| Bathrooms | 3.5 |
| Fireplace | Gas |
| Study | Yes |
| Sunroom | Yes |
| Laundry | First floor |
| Mudroom | Yes |
| Basement | Full – Walkout |
| Covered porches | Two front, one rear |
| Garage | 3 car attached, side load |