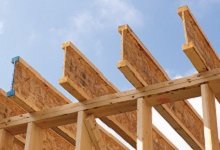 I-joists are stronger, lighter, stay flatter, have little or no shrinkage, they can make for quieter floors, and I-joists are a more sustainable product than dimensional lumber floor joists, so why after forty years are they not used in a higher percentage of new home construction? It is a good question. You would think the ratio would be something like 70% of new homes built with I-joists and 30% with dimensional lumber joists, but it just the opposite.
Readers may find the answer irrational, but all homebuilders will understand why it makes sense.
Homebuilding is a competitive business, it always has been. You can bet that in any given market every homebuilder has shopped the competition and knows exactly what their specs are. They also know that many homebuyers will see price first and weigh value second. To be in the running for a sale, homebuilders often try to adjust their specs so they come close in sale price to their closest competitors. This process is not unlike the auto industry drawing buyers in using the base price of a car, but it can get a little out of hand. I once work for a semi-custom builder who for years made the dishwasher optional rather than standard. At the time, the option price was only $250!
A quality home can be built with dimensional joists. Arguably, a better home could be built using I-joists but the cost difference can amount to several thousand dollars with some home designs. That is a lot of money in most homebuilding markets and that is just one item in a list of dozens of comparable specifications a homebuyer should review.
When I-joists do not make sense
Simply put, when cost is king. In today's economy, consumers need to make every dollar count. It might make more sense for buyers on a budget to pay for a furnace upgrade rather than a structural upgrade. Everyone's situation is different.
In simpler home designs and with many starter homes, a dimensional lumber joist system is often less expensive than an I-joist system. For other plans, I-joists may be cost effective only if the spacing is increased; if the increased spacing requires the use of thicker OSB or plywood, the cost savings for the I-joists can be negated.
What should the new homebuyer do?
Determine what you want before you buy. When it comes to I-joists, they almost always make sense. Do your own research.
Choose your homebuilder wisely. Give a homebuilder credit for including I-joists as a standard. I know of a homebuilder in Warsaw, Poland who, on several occasions back in the late 1990's, purchased I-joists in the USA and had them shipped to Poland for use on new homes he was building. (He had seen them in use in the US and wanted to introduce them to homebuyers in Poland.) Eventually supply caught up with demand and he was able to purchase I-joists in country for significantly less.
Do not discount a homebuilder if they treat I-joists as an option. Depending on the option price, the extra cost for I-joists is made up for in their performance.